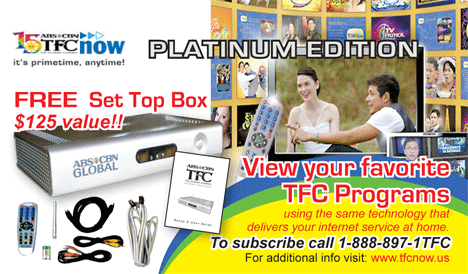 TFCnow is a video and audio streaming subscription service on the Internet that provides Filipinos worldwide with access to the best news and entertainment shows from ABS-CBN, the Philippines' largest media network. read more
---
NEWS HEADLINES
Some of those who spent an evening aboard the Palm Beach Princess casino ship on its cruise to-nowhere have come away winners. However, for 44 of its Filipino crew members, ending up broke is not what they have bet on.
read more

---



BEAUTY AND FASHION

Get Glam! Brings beauty and fashion experts to Palm Beach
Miss Universe 2010 announced
Eco-friendly swimwear fashion show announced



---



JOB ANNOUNCEMENTS
FULL TIME NANNY
Required in Coral Gables, Florida

We are seeking the services of a full time Nanny to work daily 8 a.m. through 5 p.m. weekdays and every other Saturday in the Coral Gables, Miami area.
Primary responsibilities will include: Childcare looking after a newborn baby girl, general cleaning, organizing, laundry and light cooking or preparation.
We are looking for a highly skilled and loving person who specialize in childcare and love children. Excellent references is required and background check will be done. Possessing a certificate in Childcare, Drivers License and Bilingual are beneficial.

Please call Anita Clarke at 786-314-7250
We look forward to hearing from you.
---
LIVE IN NANNY/HOUSEKEEPER

-2 CHILDREN AGES 2 & 4
-2YEARS EXPERIENCE WITH CHILDREN 1 TO 5 YRS MANDATORY
-PLAYING EDUCATIONAL & OUTDOOR ACTIVITIES
-LIGHT COOKING OR PREPARATION
-EXPERIENCE WITH GOOD HOUSEKEEPING
-NON-SMOKER
-MUST BE ABLE TO WORK A MINIMUM OF M-F
-BILINGUAL, DRIVING LICENSE, CONFIDENT SWIMMER, A PLUS

COMPENSATION:$300-$400 /week (based on experience)
LIVING ACCOMODATIONS PROVIDED IN GUEST ROOM DURING THE WEEK

SEND RESUME OR PERSONAL INFORMATION WITH REFERENCES TO
EMAIL: MBARASCH @ HOTMAIL.COM or call (561) 841-7852
---
IMMEDIATE OPENINGS
SUMMER OR CAREER POSITIONS
Apply online today!!!!

www.jobforfilipinos.com
www.wearelooking.com


or Contact Leo at (954) 609-1848
---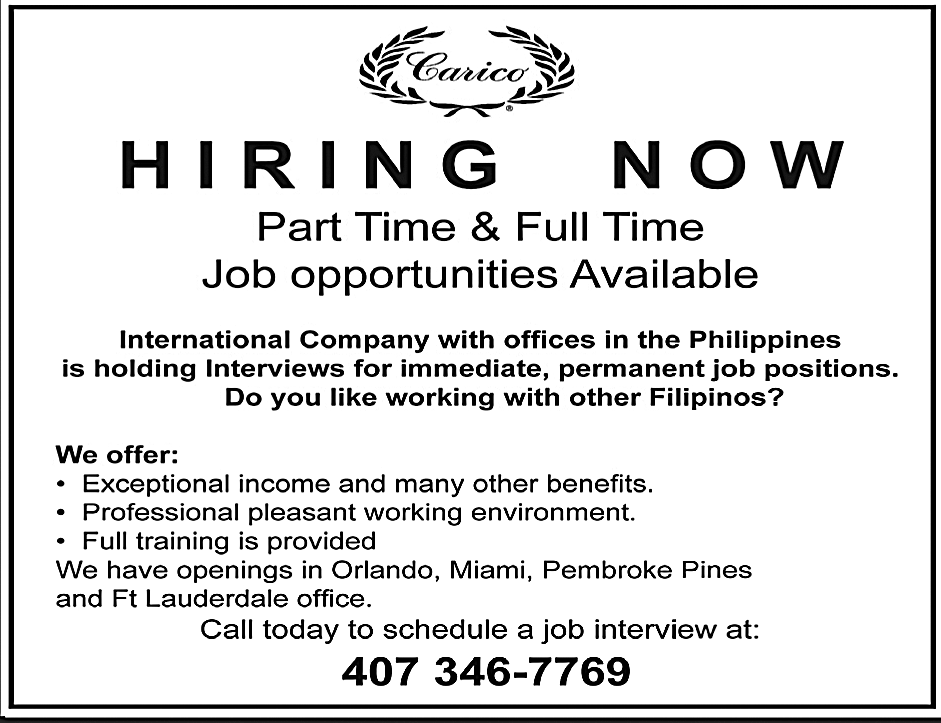 ---